Historic day for start ups and equity crowdfunding.
In a stunning development earlier today, the SEC released final Regulation A+ rules under Title IV of the JOBS Act that pre-empts state law for larger Regulation A offerings up to $50M and provides for state coordinated review for offerings up to $20M.  Growth companies will now soon be able to raise up to $50 million from unaccredited investors in a mini-IPO style offering serving as a potential alternative to venture capital or other institutional capital.   Imagine Uber or AirBnb, instead of going to big institutions for capital, now offering their stock directly to their drivers, riders, renters and tenants as well as the general public.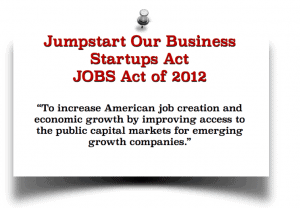 When the JOBS Act was passed in April of 2012, many believed that Title IV would actually be the most powerful change, but given that there was no deadline for implementation of the rules, most ignored Title IV as too remote to pay serious attention.   There was also concern about the same problem that haunts existing Regulation A, namely state securities laws that would require registration in every individual state where securities are sold making it too expense/complicated to be workable.  The infamous example of this was in 1980 when Massachusetts deemed the offering of Apple Computer stock to be "too risky" and did not allow its citizens to participate in the offering.
In December of 2013, however, the SEC shocked the securities community by introducing Proposed Regulation A+ rules that, through a clever legal maneuver, pre-empted state securities regulation.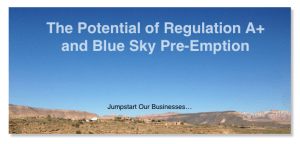 Since that stunning announcement, there has been great uproar about "pre-emption," whether it is legal and whether it is appropriate for a federal agency to pre-empt the states in this manner.   Most in the pro-business community ardently support pre-emption argue that securities offerings constitute interstate commerce and that state by state regulation is antiquated in a world where the internet blurs state lines.  Many regulators, investor protection groups and even one crowdfunding platform opposed such pre-emption, arguing that state review adds value and necessary investor protections.   In response, the states introduced a coordinated review process, which was designed to address these concerns.  Critics argued that this was too little, too late and only resulted from the states being forced to act by the threat of pre-emption.
In the final rule release, the SEC settled the dispute through a brilliant compromise by confirming pre-emption for Tier II Regulation A offerings up to $50M but also increasing Tier I Regulation A offerings from $5M to $20M and leaving pre-emption intact, thus giving "coordinated review" a chance to prove itself.   This appears to be the result of an extensive negotiation between Commissioner Stein who opposes pre-emption and several of the other Commissioners.  In coming to this decision, the SEC noted that:
Coordinated review is new and unproven and pre-emption is necessary at least until there is a track record of a functioning coordinated review program
Coordinated review has great potential if the states can stick together and maintain a seamless process
NASAA may appoint an individual to serve with the SEC internally on implementation of Reg A+
States will retain full enforcement and anti-fraud jurisdiction in all cases